KAZAKY Interview for Woman.ua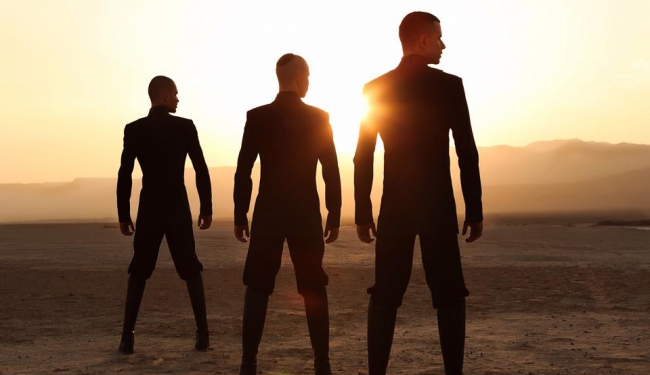 [English version]
Source: KAZAKY for WOMAN.ua
► The interview is in russian, so be kind with us, we did our best with the translation!
Enjoy it! ;) ◄
This spring, KAZAKY will release a new VIDEO for the song "The Sun". During the three years of their existence, the guys reached such a success , that their colleagues

can't even dream of : record views on YouTube, performance at Dsquared2 fashion show during Milan Fashion Week , dancing in "Girl Gone Wild' video with Madonna . And do not forget , these guys have time to dance on stilettos.
Despite a busy touring schedule , Oleg Zhezhel,

Artur Gaspar , Stas Pavlov and Kirill Fedorenko have found time for us to talk about their new video , clothes , music and weekends.
• Tell us about your new video , which is about to be released soon.
Oleg: I think we need to start with a song , because without it there would be the idea of ​​the clip. The author of the song "The Sun" is our Artur. We knew that this should have been the first single from our new album "I LIKE IT part 2", and the idea of the clip came up with the director Roy Raz, with whom we have

wanted to work for so long . When we decided to shoot the video for "The Sun", we realized that the director had to be Roy and stylistically it suits to his way of working. When we got the idea from the director, it was fully aligned with the vision that Artur had. It was like a sign. Soon we flew to Israel. The shooting lasted two days, but it has been surprisingly easy. Roy is so professional and with great taste!
Artur: We noticed Roy Raz time ago, in his works there's always that sense of aesthetics. [..]. The shooting took place in Tel Aviv, Roy's home . The clip was filmed in two days . The first day of filming has been in the city and the second in the desert, where he created an incredible atmosphere, which I hope you will soon feel.
• Who worked on your image in the video?
Kirill: Our favorite stylist, Anna Osmekhina.
• How do you dress in everyday life? Do you have any favorite brands?
Stas: I prefer ethnic style clothing.
Oleg: I might disappoint someone, but I'm a fan of comfortable and athletic clothing and unobtrusive, mostly Nike. Sometimes I wear jeans.
Kirill: I also love the comfortable and practical clothing. With the weather in our country is not always easy. I often wear warm Timberland boots and coats to the knee by AllSaints, that is the best option during the winter season. I also like Diesel, Nike, Adidas Original.
Artur: I don't become attached to brands. The main thing is that the clothes have quality, they have to be comfortable and that I could feel comfortable in it. I do not have a particular style, a dress mood. I choose brands only because of the quality and not because of the name. For example, Dior, D&G, AllSaints.


• You are friends with many Ukrainian designers. Do they give you their stuff?
Artur: There are some friends-designers who give their creations to us.
• Can you tell us the favorite thing from your wardrobe?
Kirill: I love glasses. In my collection there are the glasses from different countries.
Stas: My favorite thing is just a piece of cloth.
Artur: The favorite thing in my wardrobe are

my home pants. Every time I wear them is a great pleasure.
• Everyone remember your bright appearance on the catwalk for Dsquared2 and for Anouki Bicholla. Are you getting similar offers from designers now?
Oleg: Now our aim is our career, but as we already said, we love and respect talented people. Therefore, cooperation with anyone is not excluded . But I look forward to the future, and say that we are already working on something .
Artur: After Dsquared2 and Anouki Bicholla shows and we also opened the Shanghai Fashion Week and it was not the last collaboration with designers. We always get proposals, but unfortunately , there isn't enough time to work with all.
• Do you have a style icon?
Kirill: For me, a style icon is Angela Merkel . She's peerless!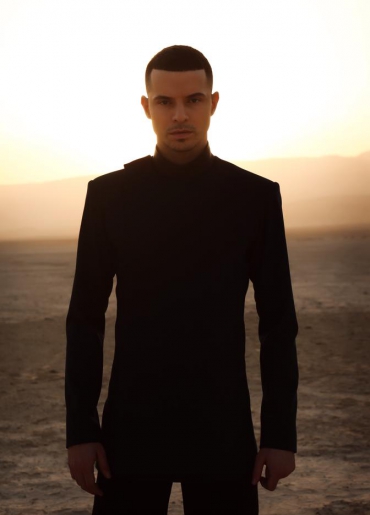 • Your fans recognize you, right? Did you received obscene messages or phone calls?
Oleg: Of course they know us and it's nice to meet them with smiles and gratitude for our work. But fortunately our fans and those who like our work

are very polite. In the social networks there were indecent messages, but nothing personal .
Kirill: Not walking around Kiev, but in those places where I often go yes. Sometimes they ask a photo. I love our fans, they are always funny .
Stas: I don't know, so I didn't had to deal with similar stories.
Artur: They find us out in public places. But what is surprising, in Russia and in the United States happens more often. The fans recognize us from the first day of our debut as a group. And now the situation is growing up. We love them and appreciate that. Everything that we create is primarily for them.
I haven't received anything improper yet.
• In one interview you said that you would consider an offer to play in a movie. So, we'll see you on the big screen?
Kirill: A movie is a very nice environment for a self-development. Let's hope that this offer will happen someday.
Oleg: I honestly do not remember I've said something about starring in a movie. The internet, you understand that there they can say everything about anyone... But nothing is excluded. We have no taboos :)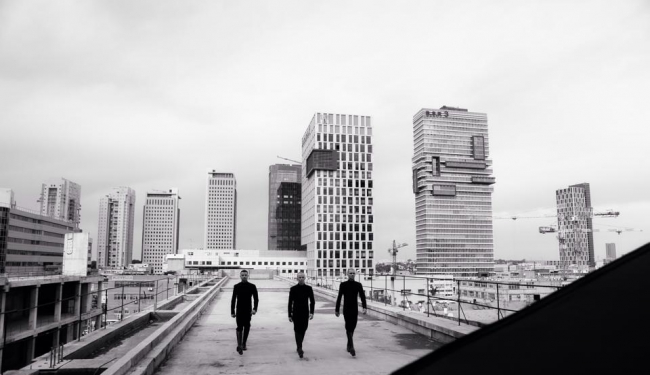 • Do you think your Ukrainian fans are different from those who come to your concerts in other countries?
Oleg: Audience is always very different and we can just be happy about that. In all the different countries there are a different mentality and temperament. In Latin America, the fans know all the songs by heart and do not hesitate to come off and dance. In the CIS countries they are active as well, but there are those who love to see us at a table in the VIP zone.
Kirill: We like to watch and listen to different people, especially those who want to get everything out of life: love, euphoria , freedom.
Artur: In Russia and Ukraine, we mostly see girls, from 16 to 55 years, also because and our concerts often take place in clubs. In other countries, the public is very different

and they're not shy.
• How do you spend the weekend if you have time?
Artur: I love travelling, so I always try to go somewhere. Although this rarely happens. Even if there are no concerts, I do house music or dance for the soul. I like reading, watching movies, listening to music, staying with friends. I also like to spend time alone, in silence.
Oleg: I bought a PlayStation 4, but couldn't play yet. And usually, I spend my free time with friends and family.
• If you weren't KAZAKY, what would you be now?
Stas: Implementation is relative in this world. There is an eternal activity the realization of themselves as souls, in a temporary satisfaction of the sensual pleasures.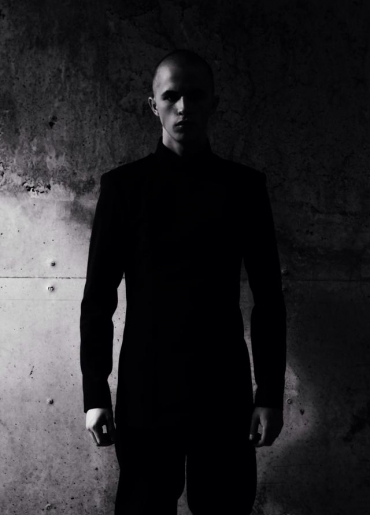 Artur: I would work at the Ukrainian National Opera ballet as a soloist. I think that I

would dance in any case, but not sure in Ukraine. Unfortunately, in this country the Opera has more than a soloist.
•

What kind of music do you listen to?
Stas: I listen to the Vedic mantras.
Artur: I listen to different music , starting from the classical one.
Oleg: I always listen to different music and I rarely stay long on the same song. Today it may be my favorite song and tomorrow I can't remember it anymore.
• Can you name the top 5 tracks from your playlist?
Oleg: I can say the top 3:
1. Kyla La Grange - Cut Your Teeth
3 . Duke Dumont - The Giver (Original Mix)
But this is the top just of today.
Artur: I have a very large playlist and there only are my favorite tracks.
Stas: Maha Mantra Hare Krishna.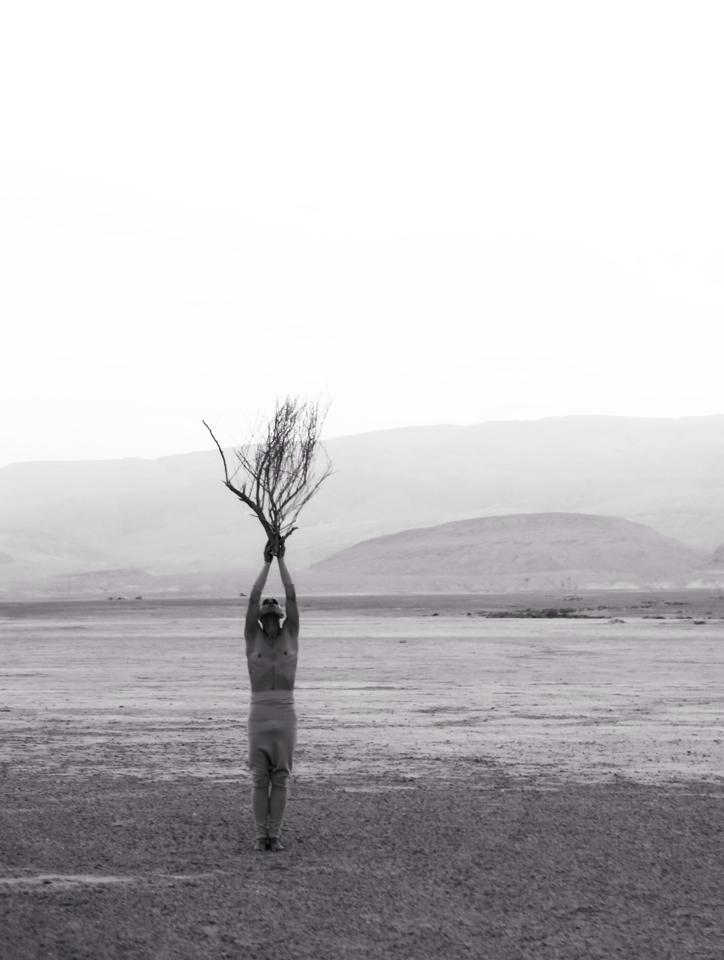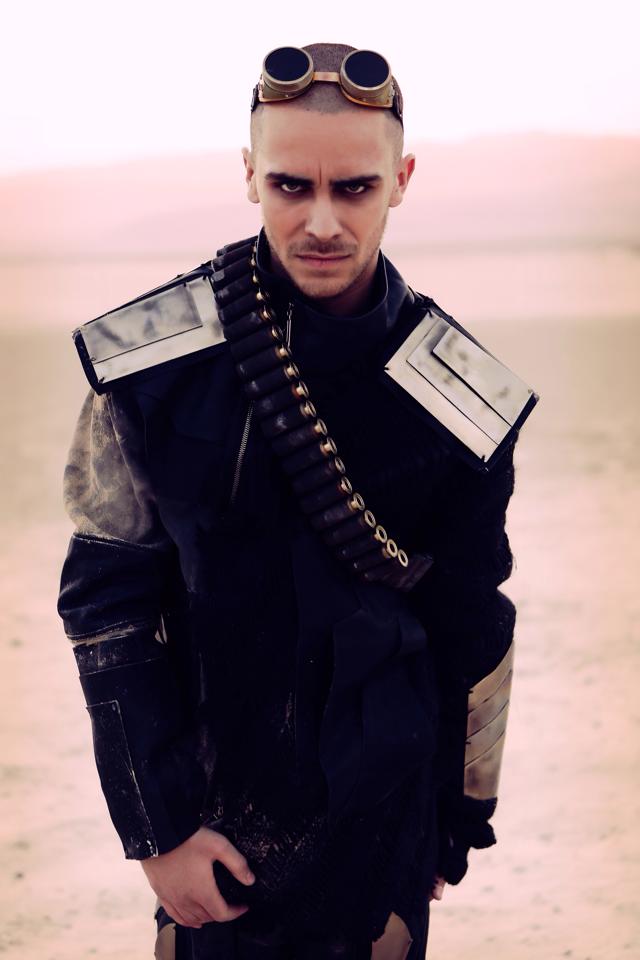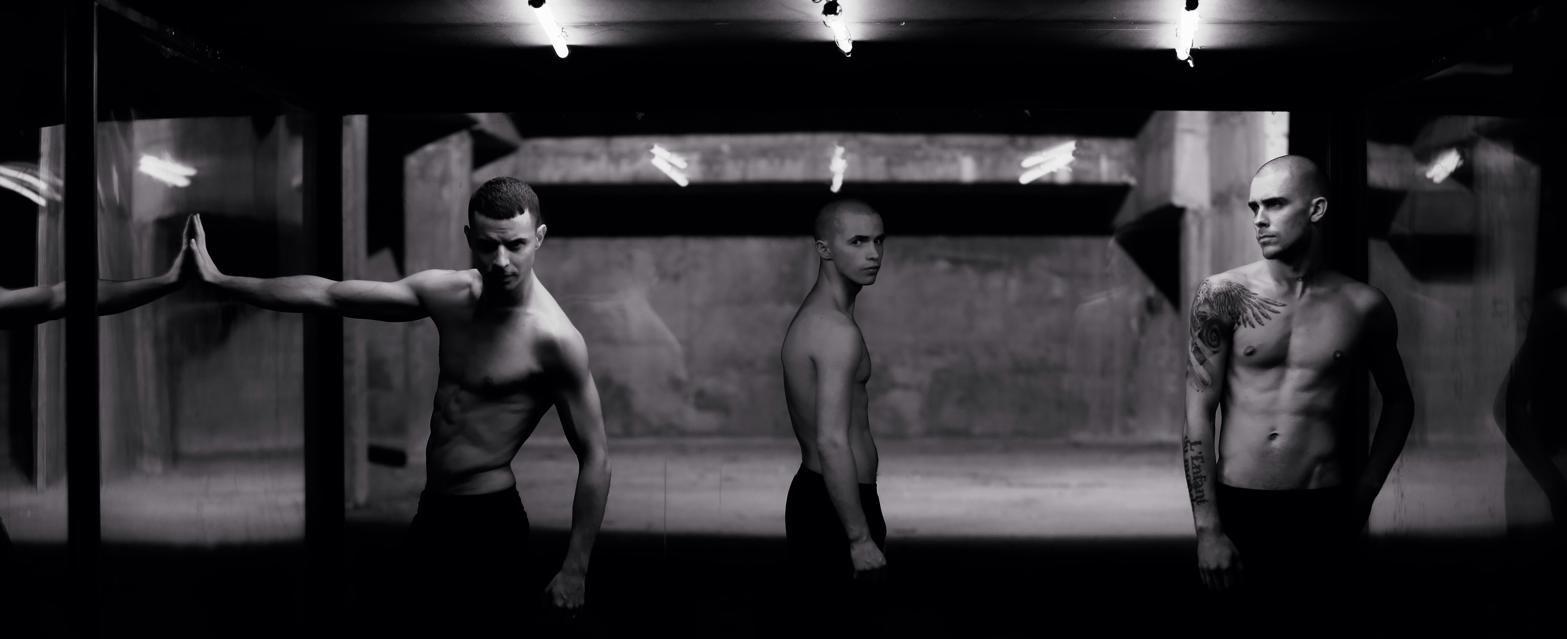 • What is more important for an artist, the talent or the tenacity?
Oleg: Talent and perseverance! Less talent, means more persistence. More talent, it means so even more tenacity and unique as Michael Jackson, Beyonce, PSY, and many others .
Artur: Talent is a gift. But I agree that persistence is also a gift. So you need to be exactly in the middle.
• Where do you find the motivation to move on during the moments when you could give up?
Oleg: Good question, no one has asked

before. I look back at the work path and ask myself the question: "Is that all what you want, are you ready to stop? "And say to myself : "I'm happy! But I want to create more, because the movement, the development

is life . "
Stas: My motivation is that this body is not eternal , and every effort should be to achieve the perfection of life.
Artur: I gotta love life in order to be motivated. We have no other choice. Yes, there are times when it becomes boring. But we all have a great ability to reconfigure ourselves and then we can easily go on.
KAZAKY - The Sun [Behind the scenes]
Fonte: KAZAKY per WOMAN.ua
► L'intervista è in russo, scusateci, abbiamo fatto del nostro meglio con la traduzione!
Buon divertimento! ;) ◄

Questa primavera i KAZAKY rilasceranno un nuovo video per la canzone "The Sun" . Durante i tre anni della loro esistenza, i ragazzi hanno raggiunto un tale successo, che i loro colleghi non possono nemmeno sognare: record di visualizzazioni su YouTube, esibizioni per Dsquared2 per la sfilata di moda durante la settimana della Moda di Milano, comparse come ballerini nel video di "Girl Gone Wild" con Madonna. E non dimenticate, questi ragazzi hanno il tempo di ballare su tacchi a spillo.

Nonostante siano occupati nella tournée, Oleg Zhezhel , Artur Gaspar , Stas Pavlov e Kirill Fedorenko hanno trovato il tempo per noi per parlare del loro nuovo video, di vestiti, musica e dei loro fine settimana.

• Parlateci del vostro nuovo video, che sta per essere rilasciato a breve.
Oleg: Penso che abbiamo bisogno di iniziare con una canzone, perché senza di essa non ci sarebbe l'idea della clip. L'autore della canzone "The Sun " è il nostro Artur. Sapevamo che questo avrebbe dovuto essere il primo singolo dal nuovo album "I LIKE IT parte 2", e l'idea della clip è venuta fuori con il regista Roy Raz, con cui volevamo lavorare già da così tanto tempo. Quando abbiamo deciso di girare il video di "The Sun", ci siamo resi conto che il regista doveva essere Roy e stilisticamente si adatta al suo modo di lavorare. Quando abbiamo avuto l' idea dal regista, ci siamo resi conto che era completamente allineata con la visione che Artur aveva. E 'stato come un segno. Abbiamo subito preso il volo per l' Israele. Le riprese sono durate due giorni, ma è stato sorprendentemente facile. Roy è così professionale e ha grande gusto!
Artur: Abbiamo notato tempo fa Roy Raz, nelle sue opere c'è sempre quel senso di estetica. [ .. ] . Le riprese hanno avuto luogo a Tel Aviv, nella città di Roy. La clip è stata girata in due giorni. Il primo giorno di riprese è stato in città e il secondo nel deserto, dove ha creato un'atmosfera incredibile, che spero anche voi sentirete presto.

• Chi ha lavorato sulla vostra immagine nel video?
Kirill: La nostra stilista preferita, Anna Osmekhina.

• Come vi vestite nella vita quotidiana? Avete delle marche preferite?
Stas: Preferisco abiti in stile etnico.
Oleg: Potrei deludere qualcuno, ma io sono un fan dell' abbigliamento comodo e sportivo e discreto, soprattutto Nike. A volte indosso jeans.
Kirill: Mi piace anche l'abbigliamento comodo e pratico. Con le temperature nel nostro paese non è sempre facile . Mi capita spesso di indossare stivali Timberland caldi e cappotti al ginocchio di AllSaints, che è l'opzione migliore durante la stagione invernale. Mi piace anche Diesel, Nike, Adidas Original.
Artur: Non sono legato alle marche. La cosa principale è che i vestiti siano di qualità, devono essere comodi e devo sentirmi a mio agio. Non ho uno stile particolare, uno stile d'animo. Ho scelto alcune marche per via della qualità e non per il nome. Ad esempio Dior, D&G, AllSaints.

• Siete amici con molti designer ucraini. Vi regalano qualcosa?
Artur: Ci sono alcuni amici-designer che danno le loro creazioni a noi.

• Potete dirci la cosa che più preferite del vostro guardaroba?
Kirill: Io amo gli occhiali. Nella mia collezione ci sono gli occhiali di diversi paesi.
Stas: La cosa che preferisco è solo un pezzo di stoffa.
Artur: La cosa che preferisco nel mio armadio sono i miei pantaloni di casa. Ogni volta che li indosso è un grande piacere.

• Chiunque ricorda il vostro aspetto luminoso in passerella per Dsquared2 e per Anouki Bicholla. State ricevendo offerte simili da designer adesso?
Oleg: Ora il nostro obiettivo è la nostra carriera, ma come abbiamo già detto, amiamo e rispettiamo le persone di talento. Pertanto la cooperazione con chiunque non è esclusa. Ma io guardo al futuro, e devo dire che stiamo già lavorando su qualcosa.
Artur: Dopo gli spettacoli per Dsquared2 e Anouki Bicholla abbiamo anche aperto la settimana della moda di Shanghai e non era l' ultima collaborazione con i designer. Accettiamo sempre le proposte, ma purtroppo non c'è abbastanza tempo per lavorare con tutti.

• Avete un' icona di stile?
Kirill: Per me una icona di stile è Angela Merkel. Lei è impareggiabile!

• I vostri fans vi riconoscono, giusto? Avete ricevuto messaggi osceni o telefonate?
Oleg: Certo che ci conoscono ed è bello incontrarli con sorrisi e gratitudine per il nostro lavoro. Ma per fortuna i nostri fan e coloro che amano il nostro lavoro sono molto educati. Sul web ci sono stati messaggi indecenti, ma niente di personale.
Kirill: Non cammino vicino a Kiev, ma in quei luoghi dove vado spesso sì. Talvolta ci chiedono una foto. Io amo i nostri fan, che sono sempre divertenti.
Stas: Non so, quindi non ho avuto a che fare con storie simili.
Artur: Ci trovano in luoghi pubblici. Ma ciò che sorprende, in Russia e negli Stati Uniti accade più spesso. I fan ci riconoscono dal primo giorno del nostro debutto come gruppo. E ora la situazione sta crescendo. Noi li amiamo e apprezziamo. Tutto ciò che creiamo è soprattutto per loro. Non ho ancora ricevuto nulla di indecente.

• In una intervista avete detto che prendereste in considerazione l' offerta di recitare in un film. Quindi, ci vediamo sul grande schermo?
Kirill: Un film è un ambiente molto bello per una crescita personale. Speriamo che questa offerta arrivi un giorno.
Oleg: Onestamente non ricordo di aver detto qualcosa a proposito di recitare in un film. Su internet, si capisce che possono dire tutto su tutti...Ma nulla è escluso. Non abbiamo tabù :)

• Pensate che i vostri fan ucraini sono diversi da quelli che vengono ai vostri concerti in altri paesi?
Oleg: Il pubblico è sempre molto diverso e possiamo solo essere felice di questo. In tutti i diversi paesi vi sono una mentalità e temperamento diversi. In America Latina, i fan sanno tutte le canzoni a memoria e non esitano a mostrarsi e ballare. Nei paesi della CSI sono attivi pure, ma ci sono quelli che amano guardarci da un tavolo nella zona vip.
Kirill: Ci piace guardare e ascoltare diverse persone, specialmente coloro che vogliono avere tutto dalla vita: l'amore, l'euforia, la libertà.
Artur: In Russia e Ucraina, abbiamo per lo più ragazze, 16-55 anni anche perché i nostri concerti si svolgono spesso nei club. In altri paesi, il pubblico è molto diverso e non sono timidi.

• Come trascorrete il fine settimana, se avete tempo?
Artur: Amo viaggiare, quindi cerco sempre di andare da qualche parte. Anche se questo accade raramente. Anche se non ci sono concerti, faccio musica house o classica per l'anima. Mi piace leggere, guardare film, ascoltare musica, stare con gli amici. Mi piace anche trascorrere del tempo da solo, in silenzio.
Oleg: ho comprato una PlayStation 4, ma non posso ancora giocarci. E di solito passo il mio tempo libero con amici e familiari.

• Se non fossi nei Kazaky, cosa saresti ora?
Stas: Implementazione è relativo in questo mondo. Vi è una attività eterna la realizzazione di se stessi come anime, in una soddisfazione temporanea dei piaceri sensuali.
Artur: Lavorerei come solista nel balletto dell'Opera Nazionale di Kiev. Penso che vorrei danzare in ogni caso, ma non è sicuro in Ucraina. Purtroppo in questo paese l'Opera ha più di un solista.

• Che tipo di musica ascoltate?
Stas: Ascolto i mantra vedici.
Artur: Ascolto musica diversa, a partire da quella classica.
Oleg: Ascolto musica sempre diversa e raramente mi fisso su una stessa canzone. Oggi potrebbe essere la mia canzone preferita e domani non mi ricordo più.

• Quali sono i primi 5 brani della vostra playlist?
Oleg: posso dire le top 3:
1 . Kyla La Grange - Cut Your Teeth
2 . Rihanna - Jump
3 . Duke Dumont - The Giver ( Original Mix )
Ma questo è il top solo di oggi.
Artur: Ho un grande playlist e ci sono solo i miei brani preferiti.
Stas: Maha Mantra Hare Krishna.

• Che cosa è più importante per un' artista, il talento o la tenacia?
Oleg: Talento e perseveranza! Meno talento, significa più persistenza. Più talento, significa ancora di più tenacia e unicità come Michael Jackson, Beyoncé, PSY, e molti altri.
Artur: Il talento è un dono. Ma sono d'accordo che la persistenza è anche un dono. Quindi è necessario essere esattamente nel mezzo.

• Dove trovate la motivazione per andare avanti nei momenti in cui si potrebbe rinunciare?
Oleg: Bella domanda, nessuno ce l'ha chiesto prima. Mi guardo indietro al percorso di lavoro e mi chiedo: "È tutto quello che voglio, sono pronto a smettere?" E dico a me stesso: "Sono felice, ma voglio creare di più, perché il movimento, lo sviluppo è vita."
Stas: La mia motivazione è che questo corpo non è eterno, e ogni sforzo dovrebbe essere quello di raggiungere la perfezione della vita.
Artur: Devo l'amore per la vita per essere motivati​​. Non abbiamo altra scelta. Sì, ci sono momenti in cui diventa noioso. Ma tutti abbiamo una grande capacità di riconfigurare noi stessi e quindi si può facilmente andare avanti.