KAZAKY Among The Pop Stars!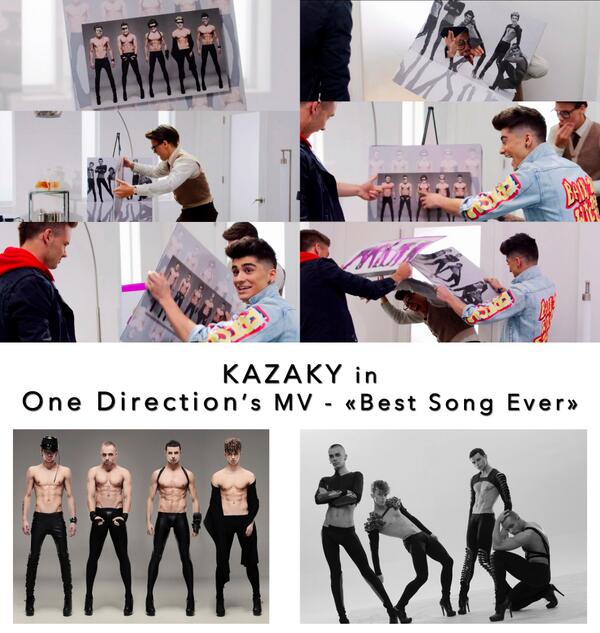 Unbeknownst to all, KAZAKY strike again in the world of pop music!
Who would have imagined our boys, after joining in 'Girl Gone Wild', the last video of the Pop Queen Madonna, they also had a guest appearance, this time on paper, in the video of the most popular band, among the teenagers, of the moment?
Yes, we are talking about One Direction, who were put into the spotlight by winning one of the most exclusive programs of UK: X Factor.

You may wonder: 'Kazaky & One Direction? Why?!'

We could say that these two groups are totally different and the only link between them is music, but these four Anglo-Irish young boys have decided, with irony, to get a comparison, in their newest video, with the most popular boy bands of all history of pop music, and more.
In fact, in the opening scene of 'Best Song Ever' video, are shown four prints on which are depicted the bodies of some boy bands with the faces of One Direction.
A nice way to relate to the great artists who have made the history of pop music and especially that gave birth to boy bands like Backstreet Boys and Take That.
Who will forget the 90's!
Then with hilarity, One Direction also have been turned into 5 replicates of Justin Bieber, concluding with the historical group Village People from disco of 70's!
All'insaputa di tutti ecco che i KAZAKY colpiscono ancora nel mondo della musica occidentale.
Chi avrebbe mai immaginato che i nostri ragazzi dopo aver fatto parte in 'Girl Gone Wild' l'ultimo video della regina del pop Madonna, avrebbero anche avuto una comparsa, questa volta cartacea, nel video del gruppo più famoso del momento?
Già stiamo parlando proprio dei One Direction, messi alla ribalta dalla vincita di uno dei più esclusivi programmi d'America: X Factor.

Vi chiederete: 'Kazaky & One Direction? Perchè?!'
Potremmo dire che sono due gruppi totalmente diversi e che l'unico nesso tra loro sia la musica, eppure questi quattro giovanissimi ragazzi anglo-irlandesi hanno deciso, ironicamente, di mettersi a confronto nel loro ultimissimo video, con le boy band più famose di tutta la storia del pop, e non solo.
Infatti nelle scena iniziale del video, vengono mostrate quattro stampe cartonate su cui sono raffigurati i copri di alcune boy band con le teste dei One Direction.
Un modo simpatico per rapportarsi a grandi artisti che hanno fatto la storia del pop e soprattutto che hanno dato vita alle boy band come i Backstreet Boys e i Take That.
E chi se li scorda gli anni 90!
Poi con ilarità, sono stati addirittura trasformati in 5 repliche di Justin Bieber, per concludere con i magnifici Village People e la disco anni 70!
For those who missed the video, but we doubt it because they got 30 million views in just 4 days, here's it to you!
Per chi si fosse perso il video, ma ne dubitiamo date le 30 milioni di visualizzazioni in soli 4 giorni, eccolo qui.
It was a nice surprise to see Kazaky among the icons of the pop music and in the video of this famous group. Who knows, maybe they also will arrive at those levels.
We wish them all the success and we hope so!
E' stata una bella sorpresa vederli tra quelle icone della musica e nel video di questo gruppo così famoso. Chissà che arrivino anche loro a quei livelli. Noi glielo auguriamo e ci speriamo tanto!